Winchester Unconference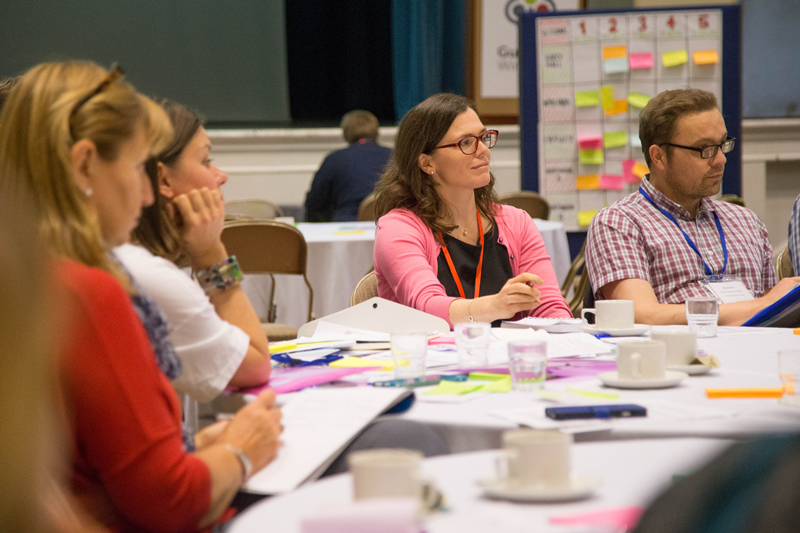 Winchester 'Unconference' sets an aspirational economic agenda
On 9 May Winchester City Council's first Unconference - an innovative event which saw participants chose the agenda for the day - welcomed 100 representatives from local businesses, voluntary and community organisations to discuss 'How Winchester can be a premier business location?'.
The Council's Deputy Leader Cllr Robert Humby broke with convention by asking delegates to pitch session ideas to each other to the programme for the day's activities. Subjects ranged from using local businesses and creating co-working spaces to attracting and retaining young people.
The event was organised by AHA Digital Ltd and supported by Konexus Consulting, UKGovCamp, NquiringMinds. Capturing the event with live drawings was Winchester-based company Drawnalism.
Cllr Robert Humby said:
"Instead of holding a traditional economic conference at which the Council sets the agenda, we decided to ask local businesses to set the themes for the day. I was really pleased to see this approach prove so popular - over 30 individuals pitched their ideas. It was fantastic to see so many different businesses working together to help us meet the challenge of making the District a premier business location."
Winchester City Council's Strategic Director for Resources, Joseph Holmes, added:
"The Council will use the feedback from the Winchester Unconference to develop the new Winchester District Economic Strategy. We will also be holding a hack event later in the year, to address issues identified at the Unconference."
Notes, pictures, blogs and social media recorded more than 20 discussions at the Winchester Unconference, with the day culminating in an online poll to prioritise the themes for the Council under the banner of Winchester as a premier business location.
To view Unconference notes visit: winchbiz.org/session-grid
To view the Unconference Slido poll results please download the document in the column on the right.
To view Unconference photos by David Pearson visit: www.flickr.com/photos/davidpea/sets Please note that these photos are used under Creative Commons.