ABC Winchester Presents: Strings and Things with Trio Virtuosi
Winchester Discovery Centre
ABC brings incredible artists who present their favourite musical styles for you and your baby to enjoy.
Dates
February 17th 2018 at 09:45 - February 17th 2018 at 10:45
Event details
Address:Winchester Discovery Centre
Jewry Street
Winchester
Tickets:£8. Each tickets allows one adult and two children to attend.
Contact Information:Tel: 07764 744 046
E-mail: neil@abcconcerts.com

Description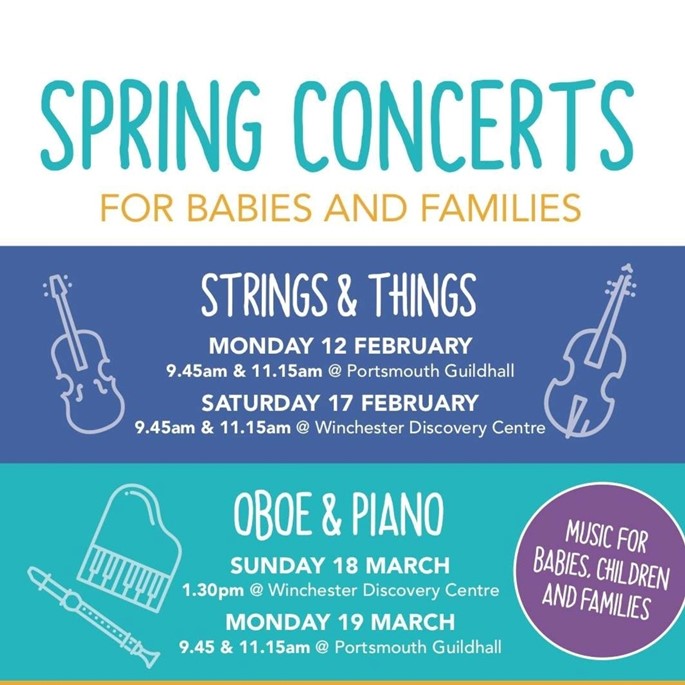 At each concert music is brought to life by some amazing professional musicians. These concerts are not 'dumbed down'. Babies are known to concentrate fully on something that is engaging, fun and stimulating and ABC are all of those things. Your baby wants to be fascinated, and ABC will fascinate them (and you) throughout.
At each concert you will be taken on a rich, stimulating, engaging and fun journey through the world of music in an environment that is built around your needs, and those of your baby.
All of our concerts are open access, we also refer to ABC as All Access Baby Concerts. You are free to move around, feed, drink, walk, jump, clap, laugh, cry, shout, sing, roll or change a nappy .
Come to hear the Violin, Viola and Cello of Trio Virtuosi in this exciting concert of wonderful Music of Strings and Things! You will clap, dance, jig, sing and laugh your way through some of the greatest music for strings in this engaging and fun concert. One not to be missed! Nappy changing facilities are provided.
Accessibility

Access for wheelchair users

Adapted toilet

Level access toilet

Positive about disabled

Seat available