Junior Assault Course
Fort Nelson
Bring the kids for an adventurous day out at Fort Nelson!
Dates
July 23rd 2018 all day - September 2nd 2018 all day
Event details
Address:Fort Nelson
Portsdown Hill Road
Fareham
Contact Information:Tel: 01329 233 734
Open hours:Daily 10am - 5pm
Description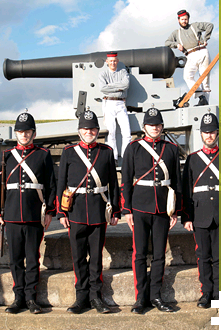 There's tunnels and ramparts to explore, exciting big guns to discover in the galleries, and if that isn't enough to burn off some energy there's the challenging Junior Assault Course.
The Junior Assault Course is suitable for ages 3 - 12 years. Children must be accompanied by an adult at all times. Prices - £4 per child. No need to book, just drop in. Stay and play all day.
Explore 19 acres of ramparts, outer fortifications, secret underground tunnels, and ammunition bunkers at this fully restored Victorian fort.
Fort Nelson sits on top of Portsdown Hill, near Freham in Hampshire. It is 10 minutes drive from Fareham, and 17 miles east of Southampton.