Winchester's residents help keep Air Ambulance flying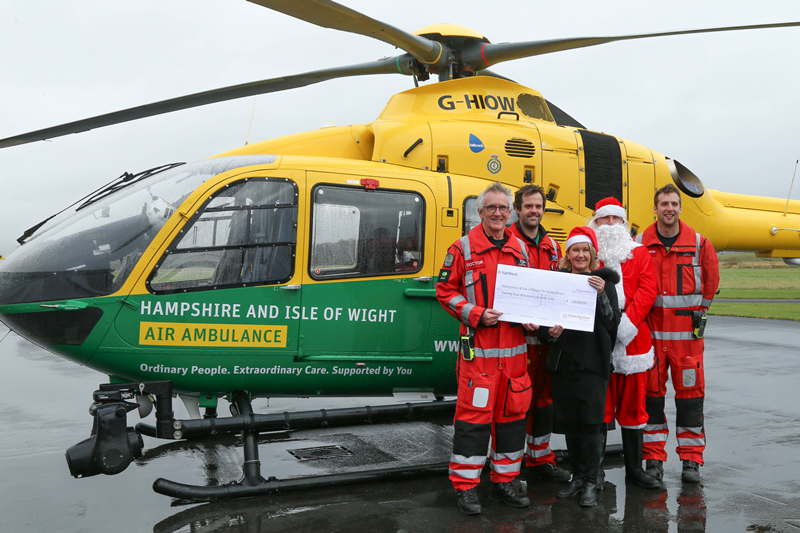 Winchester residents have helped raise a staggering £24,000 for Hampshire and Isle of Wight Air Ambulance, by using council clothing recycling points around the district to turn their unwanted clothing, shoes and textiles into cash.
Hampshire and Isle of Wight Air Ambulance provides exceptional pre-hospital critical care to those who need the highest level of urgent medical treatment, whenever they are in need and wherever they are. The charity rely on donations to keep the Air Ambulance in service.
On 13 December 2017, Cllr Jan Warwick, the City Council's Portfolio Holder for Environment presented a cheque for £24,000 to Dr David Sutton of Hampshire and Isle of Wight Air Ambulance at the charity's airbase in Thruxton.
Cllr Warwick said:
By filling our textile banks, residents have been not only helping to reduce our waste and improve our recycling performance but are also supporting a really worthwhile cause. We are therefore thrilled to be handing over this cheque today thanks to the generosity of the people of Winchester. Our immense gratitude goes to all at Hampshire and Isle of Wight Air Ambulance for their difficult but important work, which they carry out in the in the most challenging of circumstances.
Rachel Leaman, Hampshire and Isle of Wight Air Ambulance Head of Income Generation added:
It costs in excess of £9,000 a day to maintain our life-saving service and we can only do this thanks to the outstanding support that we receive from the communities that we serve. The generous donation of £24,000 from Winchester City Council will help us to continue our life-saving work.
To find out where your nearest textile recycling bank is visit: https://www.recyclenow.com/local-recycling. If you would like to know more about the Hampshire and Isle of Wight Air Ambulance and how you can help them, visit their website: http://www.hiowaa.org/