Keep Winchester tidy, city centre businesses urged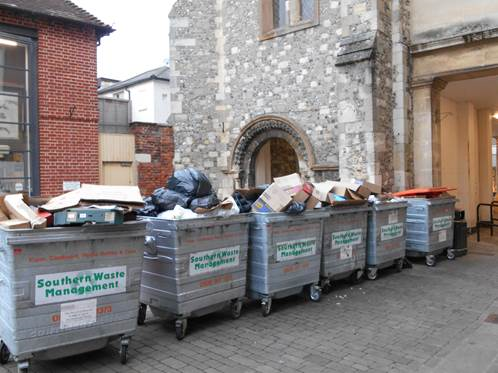 Trade waste bins cluttering up Winchester's pavements and getting in the way of pedestrians are unsightly – and they pose both a safety hazard and a fire risk. So it's time to take action. At a special briefing for city centre businesses on Monday 16 October, Winchester City Council discussed best practice for removing trade waste bins from city centre streets.
The initiative comes in response to growing concern among residents, visitors and the business community that trade waste is spoiling the appearance of our streets.
From November 2017, a three-way partnership with Winchester BID and Hampshire County Council will target a number of businesses which often leave their bins out, offering them advice about reducing and managing waste. Written agreements to improve waste management within a specified period will be put in place and the situation closely monitored by council staff. Following the agreed timeframe, if there's no improvement the Council will take appropriate enforcement action using a range of powers.
Cllr Jan Warwick, Winchester City Council's Portfolio Holder for Environment said:
By introducing this trade waste initiative we intend to deliver a cleaner, tidier and safer city centre for all. Working with our partners and the various businesses involved, we hope to find waste management solutions which will prove effective for the whole community.
The Council is exploring a number of options to encourage businesses to dispose of their waste safely and responsibly.