Station Approach
The City Council would like to realise the potential of the area around Winchester railway station, including the Cattlemarket and Carfax sites. This area is known as Station Approach. We will revitalise and develop the commercial and residential offering and create a fitting gateway to our ancient but vibrant city.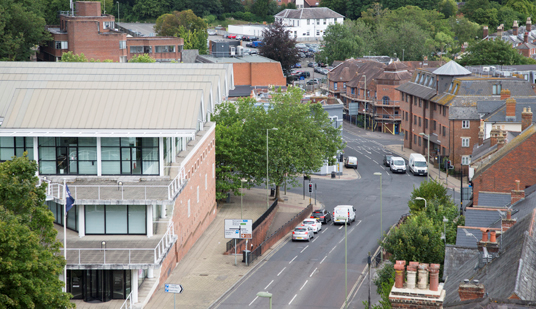 This project forms part of our vision for how we will re-invigorate the city's economy and make the best use of key sites for sustainable development. The scheme should have a positive impact on the economy and urban environment, including better walking and cycling links.
There is evidence that we need more Grade A office space within the city. If we develop high-quality commercial spaces, then we have the best chance of retaining our existing private sector employers as well as encouraging new businesses to locate their offices in Winchester.
The Council has appointed Lifschutz Davidson Sandilands (LDS) to provide architectural design and related services. We will be working with them, in consultation with stakeholders in the city, to formulate designs for mixed-use developments on the Carfax and Cattlemarket sites alongside improvements to public spaces.
Station Approach details

Portfolio Holder

Cllr Miller

Start Date

14/08/2017

Key Steps/Milestones

Procurement of architectural services - Completed

The estimated programme for the project is set out below which will include engagement at each stage.

Development of concept design - September 2017 - January 2018
Development of detailed design to planning application stage - February 2018 to August 2018
Expected date for commencement of construction - May 2019.

Latest Status

We are very pleased to announce the appointment of Lifschutz Davidson Sandilands (LDS) as the architecture firm to take forward the Station Approach development. The procurement process was overseen by RIBA Competitions and the Council's Cabinet formally approved the award decision on 14 August 2017.

Choosing the most suitable Architect for the Station Approach project is a very significant procurement for the City Council and the appointment marks an important step in progressing development at Station Approach.

Consultation

The approach to public engagement was a key part of the evaluation process during the procurement, and the LDS team and the City Council team will now work together to agree the engagement process and how this will feed into the design process.

Last Committee Report

Cabinet (Station Approach) Committee 14 August 2017 - CAB2959(SA)

Next Steps

LDS will begin work on the first phase of the project which will involve work on the following:

Disposition of uses across the Carfax and Cattlemarket sites
A strategy for improvements to the public realm
A proposal for 'Concept Design' for the Carfax site (RIBA Stages 0 -2)

This work will take place between now and early 2018.