Central Winchester Regeneration
The Council is seeking the comprehensive redevelopment of the Central Winchester area. This section contains all of the latest information on the Central Winchester Regeneration Project.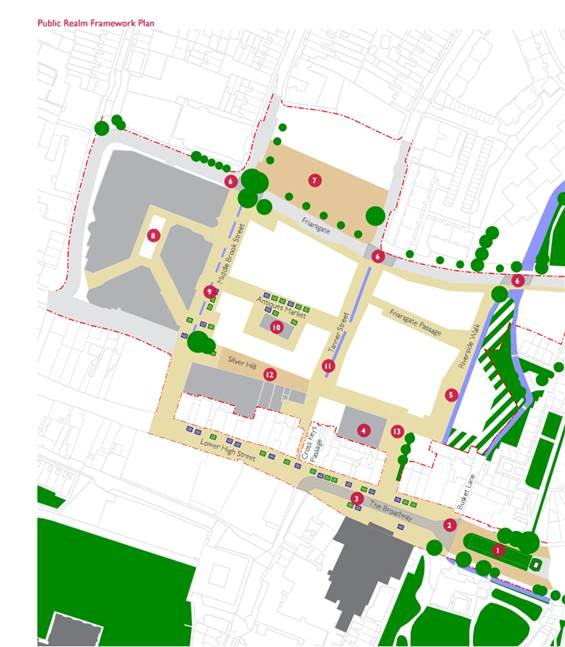 SPD approved by Cabinet
The Supplementary Planning Document (SPD) for the Central Winchester Regeneration (CWR) area was adopted by Winchester City Council on June 20 2018. The CWR SPD supplements the policies within the adopted Local Plan (Parts 1 and 2) and sets out a vision, objectives and planning and urban design framework for the future development of the Central Winchester Regeneration area. The SPD provides supplementary planning advice and guidance to prospective developers for regeneration within this part of Winchester and has been informed by an extensive community planning and consultation process. You can access the SPD and consultation statement here.
Latest news and meetings
For all the information on the latest information on this project:
Cabinet (Central Winchester Regeneration) Committee meetings
Central Winchester Regeneration news
Background
The Central Winchester Regeneration project will create a city centre which delivers for the people who live, work, study or visit here. We must preserve what makes Winchester special and build upon its distinctive style so our city stands out from other destinations in the region.
The vision for the centre includes proposals which balance retail, market, commercial, cultural, housing and community uses in a new city quarter. The new developments need to be economically viable and work for the city.
Maintaining what makes Winchester special with the character and scale of the buildings and streets is important. It's a special site and we must get it right.
With a mix of active and restful spaces, opening up of the brook to the east of the site and developing the public realm the city centre will bring together the culture and history that has shaped Winchester in its natural environment.
Timeline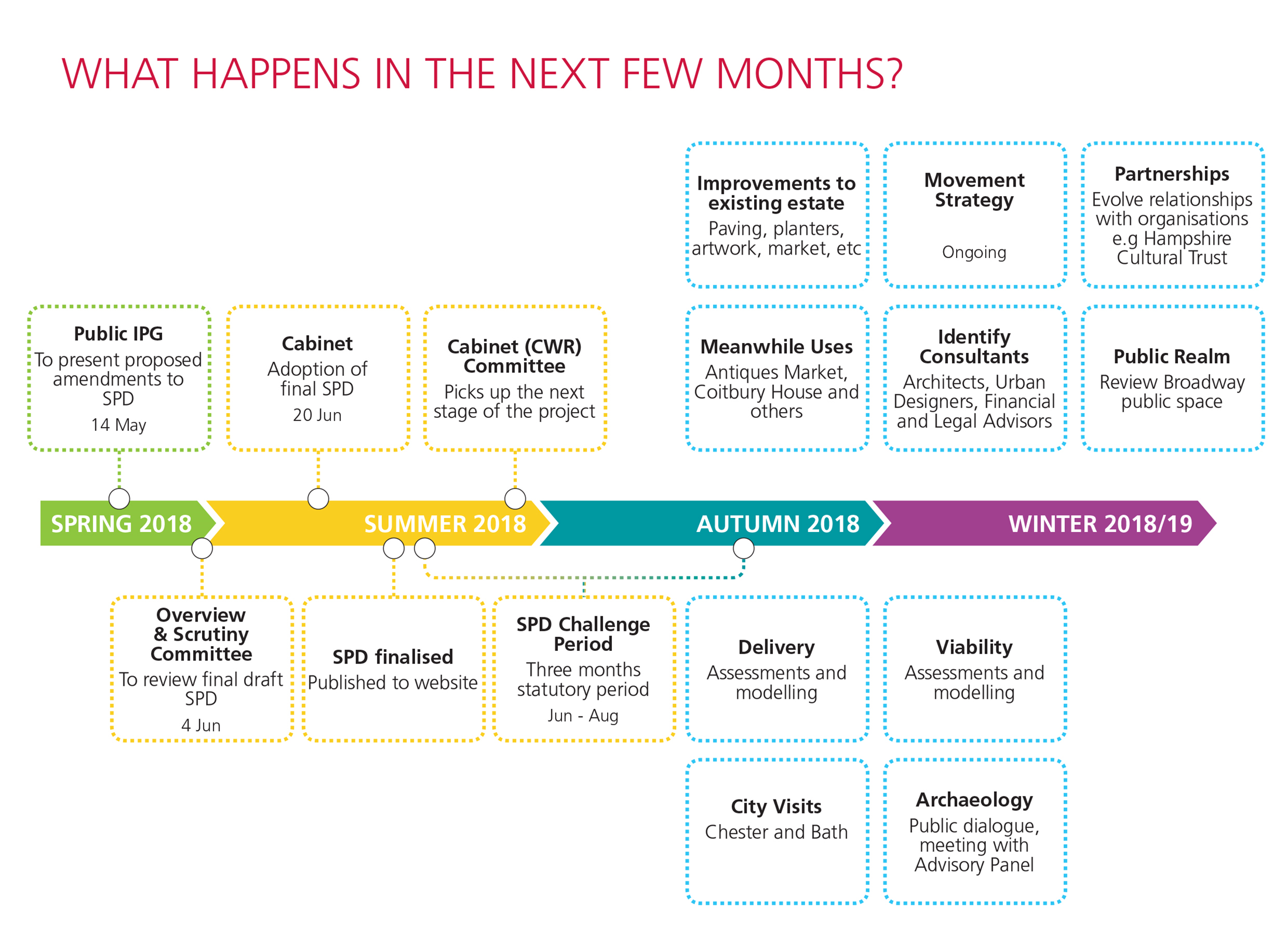 Central Winchester Regeneration details

Portfolio Holder

Cllr Caroline Horrill

Start Date

29/03/2016

Key Steps/Milestones

Current Status

Archaeology public information evening Guildhall Winchester. Save the date 11 December 2018, 6.00pm - 8.30pm
Cabinet (CWR) Committee to pick up the next stage of the project - Autumn 2018 - in progress
Final SPD approved by Cabinet (CWR) Committee 20 June 2018 and successfully completed its statutory three month challenge period 20 September 2018

Milestones completed

Cabinet Project Initiation: 29 March 2016 – completed
Inaugural IPG Meeting: 13 September 2016 - completed
Workshop to discuss the public engagement strategy: 3 October 2016 - completed
IPG Meeting on archaeology and discussion of brief to commission work: 18 October 2016 - completed
IPG Meeting on bus facilities: 8 November 2016 - completed
Commission urban design practice with experience in public engagement- November 2016 - completed
JTP, award-winning 'placemaking' practice of architects and masterplanners appointed - December 2016 - completed
Commission series of technical studies on key issues: November 2016 – Autumn 2017 - completed
Public engagement: February- March 2017 - completed
Community Planning Weekend - 24/25 March 2017 - completed
Engagement with stakeholder groups - completed
Vision for SPD - presented to IPG 4 July 2017 - completed
Preparation of and consultation on draft SPD: April - November 2017 - completed
Report of progress to IPG - 25 September 2017 - completed
Presentation of draft SPD to IPG - 30 October 2017 - completed
Approval to consult on draft SPD sought from cabinet - 6 December 2017 - approved
Formal consultation 11 December 2017 - noon 5 February 2018 - now closed
IPG held in public to share archaeology recommendations and consultation response themes - 19 March 2018 - completed
IPG held in public to share the consultation themes and actions - 14 May 2018 - completed
Overview & Scrutiny meeting to review the final draft of the SPD - 4 June 2018 - completed
Final SPD approved by Cabinet 20 June 2018 - completed
Coitbury House architect appointed for RIBA stages 0-4 - November 2018 - completed

Latest Status

The revised SPD; highlighting all the changes that were proposed to be made to it, was presented to the Cabinet (CWR) Committee on 20 June 2018, where it was adopted. The SPD has successfully completed its statutory three month challenge period (August 2018) and is accessible here.

At its meeting on the 27 November the Cabinet (CWR) Committee approved the next steps for the CWR project.

Henley Halebrown architects were appointed to complete RIBA stages 0-4 for the Coitbury House refurbishment. Cabinet CWR) Committee approved the recommendation for officers to commence a feasibility study for meanwhile uses on the bus station site.

Approval to produce a design brief for improvement works to the Lower High Street and Broadway was also granted. Officers are awaiting approval on the brief to procure a strategic development advisor, this decision will be made at the 12 December 2018 Cabinet.

Last Committee Report

Cabinet (Central Winchester Regeneration) Committee 27 November 2018

For details on the Central Winchester Regeneration Cabinet Committee, it's members and it's meetings please see this link.

Next Steps

Cabinet (CWR) Committee to pick up the next stage of the project - Autumn - Winter 2018 - in progress
Coitbury House Architect appointed for RIBA stages 0-4 - November 2018 - completed
Procure for the meanwhile uses bus station feasibility study - Winter 2018 - in progress